A Wonderful Comic Con Experience!
on
August 26, 2012
at
2:38 am
So I've been promising a post on here for a while, talking about some of my experiences at the Chicago Comic Con.  Here it is, finally!
So, here's a little shot of our booth.  We were a bit scared at first, because the comic con artist alley people changed our table without telling us.  So, I showed up at table 3170, to find that someone was already there.  Fairly perturbed, I made my way to customer service, wondering where I was located.  Turned out that they double booked me, and now I was in a no mans land section of artists alley, right next to the loading dock.  Lame!  So I made a polite stink, and told them I had marketed a certain table, and if they were going to switch things up on me without even an email, they had better come through somehow.  So, they gave me a table right on the corner of the alley, which got some great traffic.  Thank goodness.  Crisis averted.  First adventure of the con!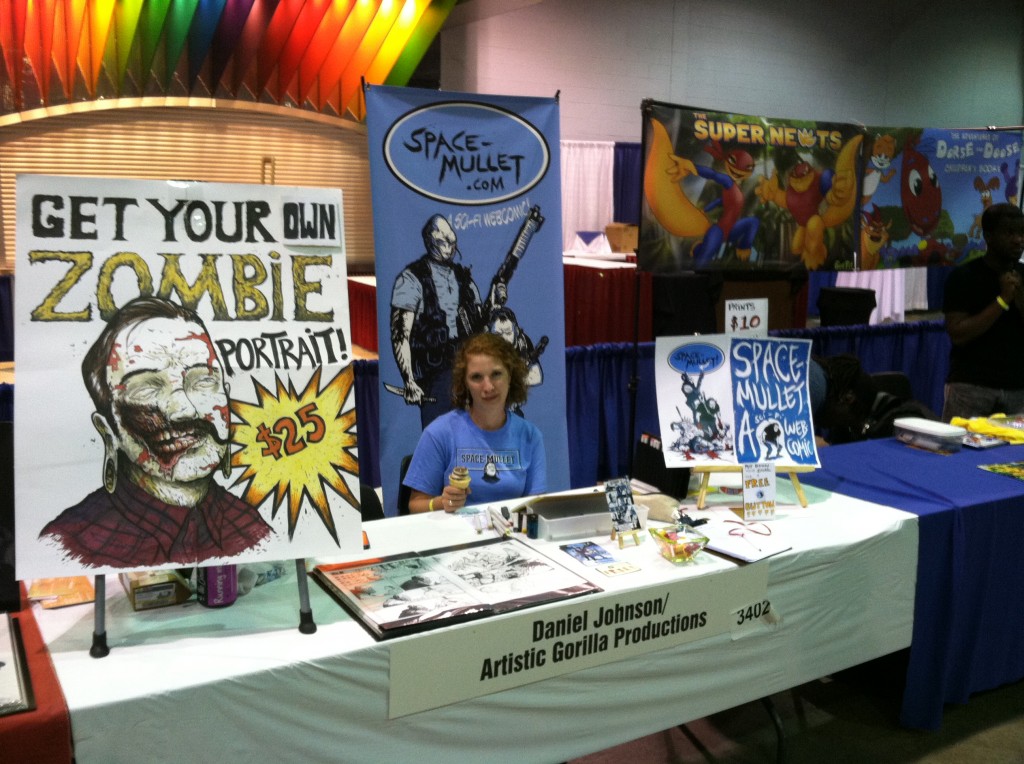 As you can see from the massive sign, we had zombie portraits going the whole weekend to try and cover the expenses of having a table at the con.   You can also see our awesome Space-Mullet banner in the back!  (we raised it on boxes the next day).  I was so nervous Thursday morning, thinking no one was going to stop by, that no one would buy ANYthing, but my fear were put to rest when within the first 3 minutes of the doors opening, I landed commission of a 3 person family!  From then on, it was CRAZY THE WHOLE WEEKEND.  Check out some of these portraits I did.
ALL of these were so much fun.  One of my selling points was that these were full on likeness illustrations, not so much a caricature.  I can crank these out pretty fast, so it's worth my time, and I was able to give people a good deal.  It was really special to see everyone's' reaction to themselves/their loved ones zombefied.  An honor, actually, in a really weird way.  I gave people joy, for a few minutes, even if it was a super unorthodox way.  AND I did over 70 portraits during the whole weekend, so I was (really) busy!
One of the best parts of this whole zombie thing, was that I got to meet Craig Parker, whom you might know from the Lord of the Rings trilogy.  He plays Haldir, an elf warrior, who helps Aragorn at Helm's Deep.  Anyway, I thought it would be cool if I drew him as an elf zombie.  Not everyday you get one of those right?  So I did.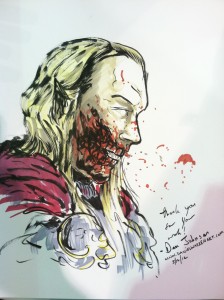 When it was actually time to man up and meet/give it to him, I almost chickened out, but I'm glad I did, because he LOVED it!  He went nuts.  Here's a shot of the star and yours truly, with a nice little autographed photo action(we made a trade.)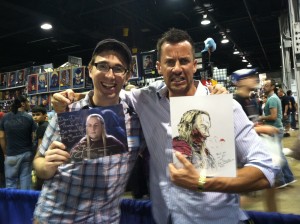 What an awesome time.
Now, even though Zombie portraits were super fun, the best part of the con BY FAR was all the attraction Space-Mullet got.  I was so encouraged by so many of you who came up to check out my work, put down your email, chat, or buy a print.  You guys made the con for me.  So many awesome words of encouragement.  I had a few people go back to their home/hotel, read Space-Mullet that night, and then come back the next day to tell me how much they loved it.  That made my WHOLE WEEKEND.  You guys know who you are.  And for those of you who bought a print, well, let me just say, that was a new level of joy for me.  To know that someone liked my art that much that they would pay for it, a creation of mine, was inspiring.  So thank YOU guys for supporting me.  I WILL NOT let you down!  In fact, I cranked out 2 new Space-Mullet  pages today!  On a roll.
I also met some AWESOME art people at the con.  Check out these peeps.
Mike Manomivibul , who does some INCREDIBLE inkwash illustrations.  Holy crap.
Bill Salisbury, who has some really engaging web comic work up right now, called Atroxity.
Andy Brase.  I'm sure a lot of you guys know this guy.  But if you don't you have to check out his work.  Oh man.  So detailed.
And last but not least, my table neighbors who had a children's comic they were promoting, called Super Newts.
And that's about it!  I did a few sketches for people who bought prints!  So when I get my hands on those photos(lost somewhere on my iphone hard drive) they will be posted!
Thank you all again!  Every single one of you guys, yeah, YOU, make this site and my work possible.  Seriously.
Mullets will NEVER die,
Daniel Warren Johnson