Page 28
on
September 20, 2012
at
3:22 am
As of this post, I am almost done with page 40, so I am a good bit ahead!  Page 40 is the last page of Chapter 1 of our first story (there will be two chapters), so keep that in mind as far as pacing goes.
I've gotten a ton of emails and comments and FB posts of encouragement about Space-Mullet!  I just want to take the time to thank you (you guys know who you are).  You're awesome.
Here's a little doodle to celebrate my new Kuretake brush pens, which are incredible.  I can get some really sharp, emotive lines with them, and they're only 2.50 each!  Not bad, not bad…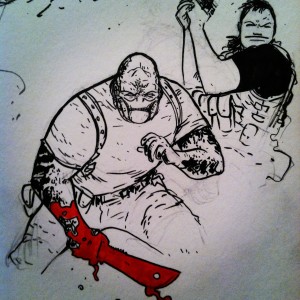 Here's to a rockin Thursday!
-DWJ