Chapter 2 Pg 38
on
February 28, 2013
at
10:50 am
As you can see, things are coming to a close soon, as far as chapter 2 goes.  I'm working on a promo image for chapter 3 now, (and also actually working on chapter 3).  The promo will be a C2E2 print that you can buy at the show.  Here's a little preview: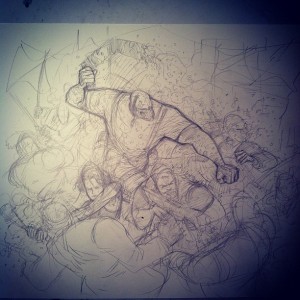 It's got some new characters being introduced in Chpt 3.  Get excited!
I also wanted to plug a kickstarter project happening right now.  My friends Sama Dams are finishing up their new album.   I helped work on the cover art.  You can get in on the music, and also get a sweet screen print based on this piece I did.  Check it.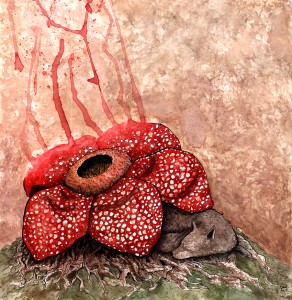 In other news, I'll be at a C2E2 drink and draw shindig tonight, in Lakeview.  More info here.  I think you have to RSVP to get in, but it should be really fun.  Jill Thompson is going to be there!  Come if you can, and say hi.  I'll be the guy with the Red Sox hat.
See you Monday!