Some More Fan Art, and Great Artists!
on
February 10, 2013
at
2:49 pm
Hey peoples,
Happy Sunday!  It's cold, dark, and rainy here in Chicago, so basically, a perfect comic book reading/art making day.  That being said, we have some more Space-Mullet fan art being done!  I can't help but share these, because they make me so happy.  First up is Tim Gibson, who has a wonderfully interesting webcomic called Moth City.  Easily unlike anything I've ever read before, which is great thing.  He has it set up so that each time you click, a new page, panel, speech balloon, or action happens in the story.  It's very digital based, and works fantastically with the webcomic element.  Check it out!  Here is his awesome version of Jonah.  Thanks, Tim!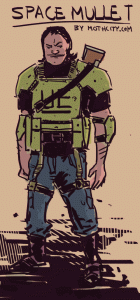 And also, here is some fan art by my very own Cousin, Samuel Johnson!  He's just 15, and he is AMAZING, especially at digital work.  Check out his DeviantArt page here.  You WILL be impressed.  Thank you, cuz!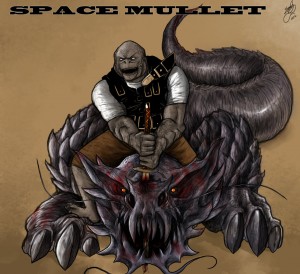 That's all for now!  I gotta go finish inking page 32!